Pictures around January 2001
---
I'm trying to get these pictures up a little more frequently, so here is one from Thanksgiving 2000 in New Jersey, a few around the house in California around New Years, and then some last images from the second weekend in January when we were back in NJ again for Jay's wedding.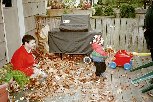 Quinn and Matt rolling in autumn leaves.


Music music music. Our hero gives a command performance.
``In the great green room, there was a telephone...''


Back to the land of the ice and snow...
So this is a snowman!

A fine vintage.

---

You can email us at casematt@tsoft.com
This page last updated 24 January 2001.